Our process
FarmBuild has over 80 years' experience in rural project design and build throughout New Zealand and Australia. We've perfected the process of providing clients with the best building experience and a final product that exceeds expectations. Over time, we have developed a robust process to ensure every project is an absolute success for all involved.
View our projects
1

Plans and designs

2

Determine the budget and finalise plans

3

Decide terms of engagement

4

Project delivery

5

Completion

6

Support service
In the first meeting we will bring all our existing plans, then listen to your brief and requirements. We have many tried and tested plans which are a good starting point.
No two farmers are the same and every operation is different, hence we work with each individual to tailor things to their requirement.
It is very important to get the best plans, ideas and vision onto paper before looking at the budget side of things.

2.

Determine the budget and finalise plans
All buildings must be completed within a budget. The first step in any project is to run a client's draft plans past our registered quantity surveyor. This will give you a 'ballpark figure' for your project.

If your plans are within your budget, you can confidently take the next step and have your documentation finalised. If your plans are beyond your budget, then they can be altered at this early stage before any more time and money is invested.

FarmBuild has an archive of past building plans, some of which are available for you to view. If you think one, or a combination of these plans will work for you, we'll be able to provide costs for the project very quickly.
Enquire about our plans
3.

Decide terms of engagement
There are two common ways of engaging FarmBuild for your project.

You can opt for a fixed-price contract, where essentially you provide the plans, and we'll give you a price then independently manage the entire project. Alternatively, you can enter into a contract, where you get involved in the project and we'll work with you on all major decisions, materials selection, and choosing and managing subcontractors.

Fixed-price option
For a fixed-price project, upon providing us with complete plans and associated documented specifications, our project manager will get FarmBuild's registered quantity surveyor to calculate the exact financial outlay. You will then be provided with a fixed-price contract. This binding contract will provide you with the comfort of knowing there are no hidden costs.

Negotiated option
The negotiated option is done on a number of larger jobs, and sometimes with renovation work. We'll agree to a standard labour cost and margin with you, then both parties work together to select subcontractors and materials. This is more of an 'open book' arrangement where the FarmBuild team works alongside you, reviewing and approving all subcontractors, materials and costs. With this option, the process is more dynamic and you play a larger role.
4.

Project delivery

Once a contract is signed by both parties, we will provide you with a full working schedule, including milestones and week by week targets. This provides us with an accurate completion date for the project.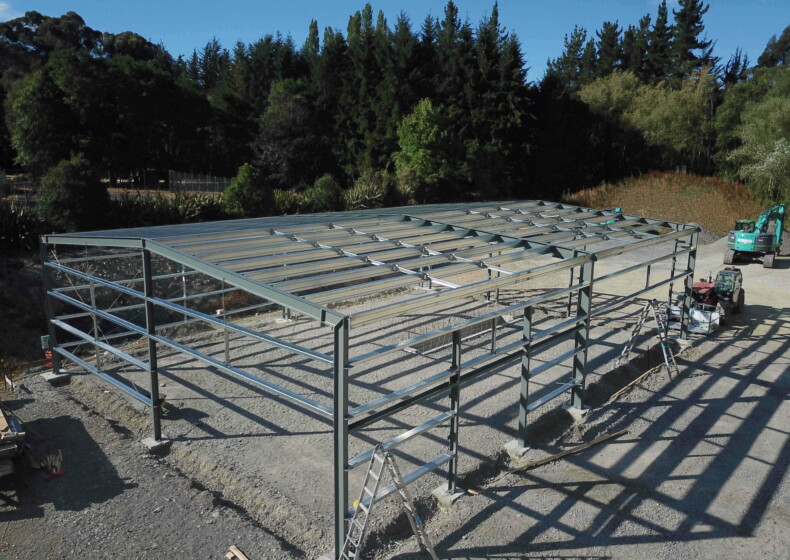 Project reports
At the end of each month, a quantity surveyor will visit the site to prepare a progress report. This will provide a complete breakdown of what work has been completed and the materials used.

Invoicing
The costs in the report are transferred to an invoice payable on or before the 20th of each month. Your invoices will also include a breakdown of payments to date and the outstanding balance. In the case of a negotiated contract, the outstanding balance may be a projected amount. You'll find further terms and conditions included in the contract signed by each party.
Variances
If there is a change of plan due to an unforeseen situation or an extra is required, this is documented on a variance sheet. The variance sheet will include the scope of work and associated costs, and will be submitted for approval to the mutually-approved person before any work is carried out. Once approved, it will be included in the monthly progress report and will show up on your monthly invoice as a variance.
Progress reports
We understand the importance of keeping communication lines open. On larger contracts, we install mobile offices which usually have computers and mobile broadband (where available). This enables the team to easily stay in touch with you and all required services and contractors.
Visual aids
To aid communication even further, we photograph and video the construction process from start to finish. This electronic record enables us to keep you updated with visual aids, answer any questions and make collective decisions when necessary.
On site meetings
We also hold regular on-site meetings with you and any other relevant parties. When required, our site foreman and project manager will attend. All relevant information, issues and decisions are documented in the meeting minutes, then submitted to all in attendance for approval. This provides an ongoing record for future reference if needed.
Upon project completion, we will go over the entire build from floor to ceiling, to double-check everything before completing a thorough walk-through with you and the final handover.
We stand by our quality workmanship and we're always here to provide ongoing support; even for the smallest matters. Our team is more than happy to receive calls asking simple things like "how does this work again?" and "how do I turn this off?" If you have any problems whatsoever, somebody is available to assist you.

You might be thinking about building, be part way down the track, or ready to go. Whatever your situation, contact us to find out how we can help.
Let's talk
If you want your rural project to stand the test of time, have a chat to one of our experts and we'll show you what we can do.
Make an enquiry