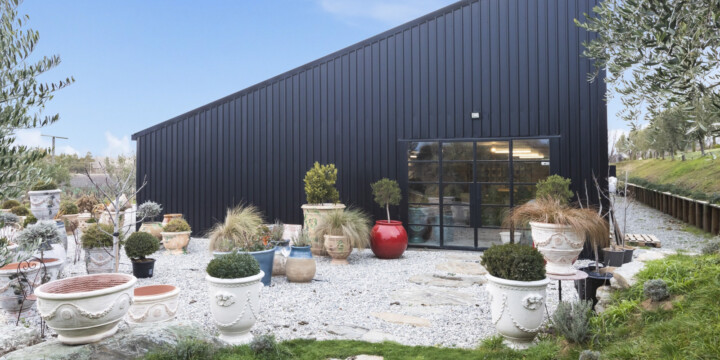 Project summary
Workshop
Location: Cromwell
On the Domaine Rewa vineyard on the north side of Cromwell is this custom-built workshop for Philippa and Yannick Fourbet. Yannick (AKA the French Potter) required a space for creating, displaying and selling his work.
Read more

We set this building at the toe of the existing landscape and matched the roof line to the gradient of the sloping hill of olive trees that comes down behind the workshop to keep the building from standing out and allowing the surroundings to be the focal point visually.

It has a mid-split sloping concrete floor to a centre channel for easy washing out, and a large mezzanine floor for drying and storing the pots after coming out of the kiln. The customer retail end of the building has a custom-made set of steel framed French doors, while the other end has a large access door to accommodate large deliveries.

Great feelings at first sight, no surprises and the team were exceptional. In short, Patrick McCarthy has managed to build up and train a team of skilled, respectful practitioners who operate with a no-nonsense mentality. I have recommended FarmBuild to several of my clients who have visited my pottery atelier or shed for you farmers out there.

My wife and I would recommend FarmBuild with no reservations. As for the design it was about nestling the building so as a result the roof follows the slope of hill behind. The mezzanine is practical and functional to dry my pots as it is close to the rooftop, which is black and captures the heat. Again the slope gives us full sun exposure.
Yannick and Philippa Fourbet
Let's talk
If you want your rural project to stand the test of time, have a chat to one of our experts and
we'll show you what we can do.
Get in touch