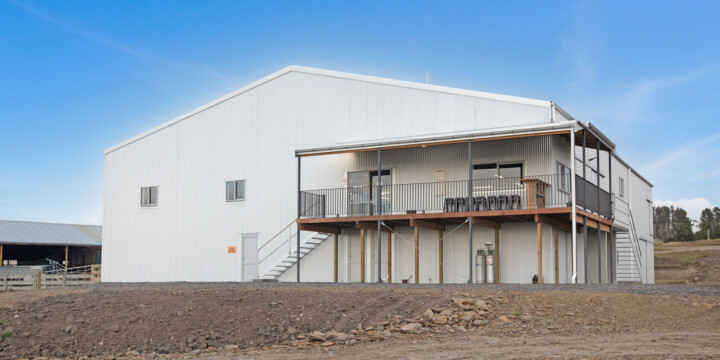 Project summary
6 stand Woolshed
Location: Central Otago
Working closely with Willie, Emily and the Matarae team, we ticked all the boxes for their new 6 stand woolshed facility. To be used as a multi-purpose hub for the station, the design for the woolshed involved a large kitchen area and access onto a deck in addition to the functional aspects of a working facility.
Read more

The new complex was designed to utilize and coincide with operations in the existing woolshed. That existing woolshed is now set up as extra night pens and acts as the main stock flow through to the new structure.

The capacity for holding dry sheep no matter the weather was massively increased with the new woolshed's large grating night pen able to take up to 500 hoggets, 600 underneath the wool room, plus extra room in the storage area in the existing shed.

The shearing board consists of 4 straight stands and 2 angled stands, one stand at each end of the board. This was the first time we tried this layout, and it has proven to be a huge success. Discussions at the design stage with the farm owners, as well as shearing contractors and wool handlers, helped to create and perfect this layout for maximum functionality.

For Willie and Emily, making this complex a multipurpose hub for the station was very important, so in addition to the sheep storage area under the wool room, there are individual count out pens, a double handling race with 3-way drafting, a double set of toilets and a large lockable storage unit to take care of farm inventory.

The final touch for this all-round facility is the spectacular view across the Strath Taieri Valley.



The team here at Matarae station approached Pat McCarthy and his farm build team to build their woolshed in 2020. After discovering his unique catching pen design where sheep run around curved corners making penning up and catching the sheep for the shearer unbelievably simple we knew they were the company we wanted to deal with. Not only were they exceptional builders, they understood stock flow. After visiting farm build woolsheds throughout Canterbury some new and others up to 30 years old and talking to other farmers about the design we new we had a design we wanted to implement.

We worked very closely with pat during the design of the woolshed where he was able to visualise our ideas and put them into a workable concept. We wanted a woolshed that not only could we prepare super and ultra fine merino wool for the Italian market but we could have ram buyers or visitors to the farm enjoy as well. The woolshed also had to be a practical work place and stock had to move freely. All of these questions and concepts were implemented by Pat and his team in a very professional manner. Their workmanship was incredible and of the highest standard. His team were all exceptionally polite and a pleasure to have around also with us choosing to feed and accomodate them it was a pleasure to have them and a sad day to see them leave. Pat also had to tie the new structure in with our old existing woolshed which became our covered yard. Pat's experience here paid off as he was able to link the two structures whilst maintaining excellent stock flow.

I would highly recommend Pat and his farm build team for any building project, and we look forward to using them and their expertise again in the near future.
William Jones
Let's talk
If you want your rural project to stand the test of time, have a chat to one of our experts and
we'll show you what we can do.
Get in touch