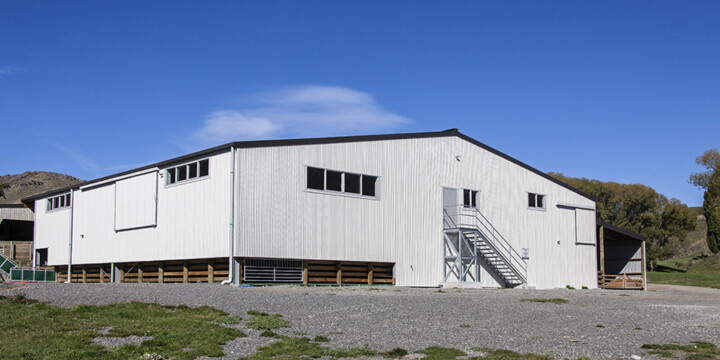 Project summary
6 stand woolshed
Location: Awatere Valley
Middlehurst was an exceptional project set in a well established, operational yard. Set to incorporate a new woolshed complex in conjunction with involving the existing woolshed for extra sheep storage, and also to retain history of the existing shed was very important.

Read more

Sue and Willie had put a lot of thought into this entire project and together with FarmBuild we developed a comprehensive design that covered off all of their needs. The level shearing board is set in a mono style layout which was decided upon discussions between Sue and Willie, Middlehurst Stations shearing contractor and wool handlers. This is a critical area of the shearing operation for usability, efficiency and accuracy. This shed has a large wool handling and storage area, as well as a small kitchen facility.

The storage under the wool room is a huge asset for the woolshed. A gradient concrete base making washing out an easy process was placed, followed by a grating system set on fibreglass pedestals which proved to be a huge success. Sheep flow extremely well from this area up through the existing shed then into the catching pen area. The count-out area is fully covered linking to a well thought out footbath and handling race. The use of colour steel cladding and windows means that this large building blends in with its surroundings and other outbuildings.
"It's not just a woolshed, it's a beautiful building. The key thing is that it's incredibly functional. With some woolsheds, the sheep just don't flow in, but because of FarmBuild's knowledge of stock-flow and handling this is outstanding."

"We've worked with other contractors previously, and the FarmBuild guys were the most organised team we've ever used. They lead the charge with their plans and engineer and were committed the whole way through."

"From the initial consultation to the final handover, the process of working with FarmBuild was more hands-on and personal than we could have wished for."

"It was clear as soon as we met them that they understood farming. Delivering the woolshed on time and to budget, FarmBuild's organisation was top notch."
Willie and Sue Macdonald
Let's talk
If you want your rural project to stand the test of time, have a chat to one of our experts and
we'll show you what we can do.
Get in touch