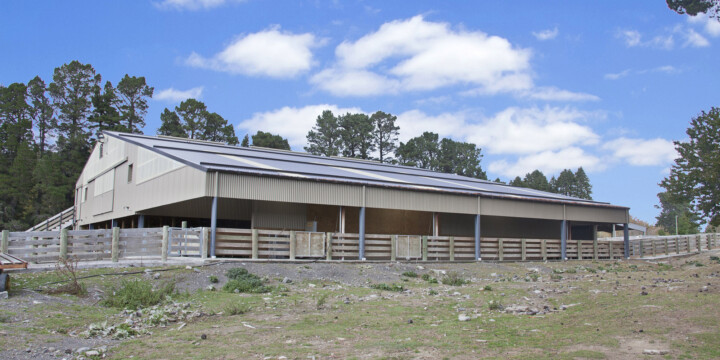 Project summary
6 stand woolshed
Location: Canterbury
Features: Grated covered yards area, circular catching pens, one off design
A lot of time was spent on the original design and working with Roy and Annabel on their individual requirements. Annabel and Roy had put a lot of thought into this shed and new exactly what they wanted so it was just a matter of us meeting their design requirements.
Read more

The shearing board has three straight stands and three on the curve which has never been done before. This shed has a large handling facility at the back of the catching pens in the shed which is used to do all the stud work and also to present the stud stock at sale time.

The stud area is all finished in hardwood grating while the catching pen and covered yards is all steel mesh grating. There is a small kitchen area inside the shed with a toilet and workshop area underneath the wool room floor. The use of colour steel cladding and windows means that this large building blends in with its surroundings.
Let's talk
If you want your rural project to stand the test of time, have a chat to one of our experts and
we'll show you what we can do.
Get in touch