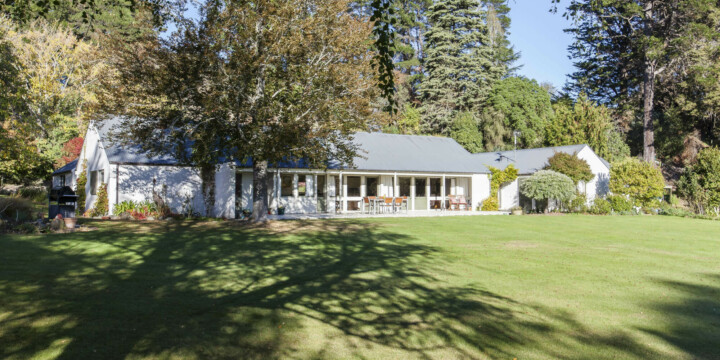 Project summary
Well this stunning homestead was originally designed by Warren and Mahoney who have excelled for many years and places like this are why. This house is absolutely timeless.
Read more

Maurice Mahoney was again engaged in 2004 to extend this homestead to add a new wing with Master bedroom, ensuite, walk-in robe, upgrade some of the interior then change the entranceway and add a new double garage.

Recently we have also been back as you will see and have altered the kitchen and main living area so it has more open living right through the front of the house.
The house is in a stunning sunny sheltered location with some amazing views.

The exposed rafter cathedral ceilings certainly give this house an open country feel. Heating in the main area is by a log fire which easily heats the open area. The house is very long and narrow with every room getting all day sun and views. Most of the house opens up to the outdoor patios which makes the house excellent for entertaining.

As I was writing this I phoned Trish Stevenson who said she was in the kitchen basking in the sun looking at the view. It has been a true pleasure working on this project with Ian and Trish Stevenson and on all the other projects on their property.
Let's talk
If you want your rural project to stand the test of time, have a chat to one of our experts and
we'll show you what we can do.
Get in touch