Testimonials
Here's what our clients have to say about working with FarmBuild and the structures we have created for them.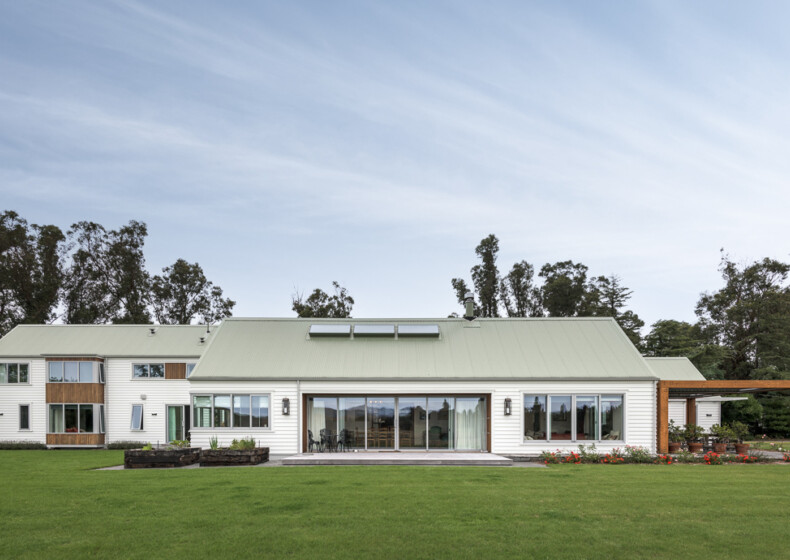 Mendip Hills Station Homestead
We first met Colin Gregg of Gregg Builders when he and his father, Bruce, came to Mendip Hills nearly thirty years ago to rebuild our woolshed after the old one burned down in a fire. It would be true to say Bruce was not just a builder; he was a craftsman. That was the term I used when we had our opening ceremony, a good old-fashioned country party, to wet the building.

As a result, Colin was himself crafted well. He learned his trade from one who knew what it takes to lead a team of builders, who may take pride in their work, birthing projects and delivering them to their eventual owners to the satisfaction of all, with steps along the way suitably managed.

When the Kaikoura earthquakes hit Mendip in November 2016, along with countless other farms and townships, and our then venerable homestead from the 1920s had to be demolished, it was natural that Gregg Builders would be among those tendering for the job to replace it.

We already knew Chris Wilson of Wilson & Hill Architects. And so it was also natural that we went to him to design for us a new homestead, one which would be a home, yet one that would do justice to the Station, fitting seamlessly into the environment, satisfying all the complex requirements, including integrating some of the old with the benefits of the new. Chris and Colin and all the other members of the team fulfilled the vision admirably, with skill, patience, and humour - despite unforeseen setbacks, like Covid lockdowns!

The result was not merely the one we sought; it also declares the care required to accomplish truly one's craft, from design right through to the fulfilment that may now speak for itself. Gregg Builders may justly take pride in their art.
Bryden & Catherine Black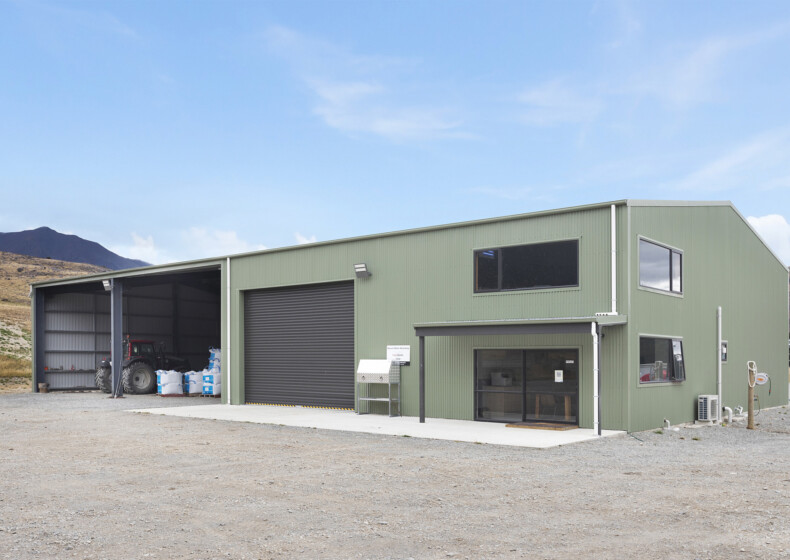 Mount White Station
Exceptional Partnership!
Mt White Station (www.mtwhitestation.co.nz) is currently going through a 3-year period of substantial development with a goal to create resilient and profitable place.
Farmbuild is our main partner in rebuilding the entire infrastructure of Mt White. We have been working together now for more than two years. Farmbuild is constantly providing a top level of workmanship. They construed numerous farm buildings and dwellings to a high standard and durability required for our rugged alpine conditions.
Colin is a professional who takes care of his team and his clients. He goes further, thinks thoroughly about his work and truly enjoys what he does. This makes difference. We have created exceptional partnership based on trust, while going through many challenging projects over the last two years.
I would recommend Colin and his team to everyone who is looking for an exceptional and honest builder!

Lukas Travnicek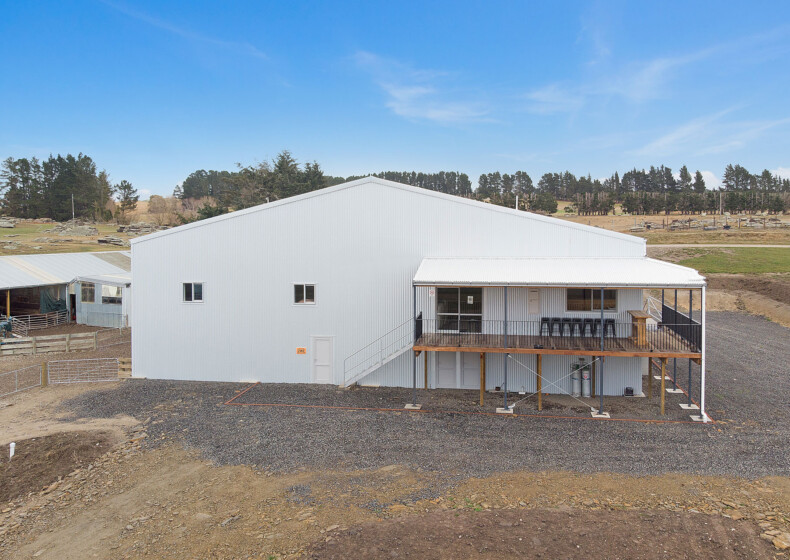 Matarae Station
The team here at Matarae station approached Pat McCarthy and his FarmBuild team to build their Woolshed in 2020. After discovering his unique catching pen design where sheep run around curved corners making penning up and catching the sheep for the shearer unbelievably simple, we knew they were the company we wanted to deal with. Not only were they exceptional builders, they understood stock flow. After visiting FarmBuild woolsheds throughout Canterbury (some new and others up to 30 years old) and talking to other farmers about the design, we knew we had a design we wanted to implement.
We worked very closely with Pat during the design of the Woolshed, where he was able to visualise our ideas and put them into a workable concept. We wanted a Woolshed in that not only could we prepare super and ultra fine merino wool for the Italian market, but we could have ram buyers or visitors to the farm enjoy as well. The Woolshed also had to be a practical work place and stock had to move freely.
All of these questions and concepts were implemented by Pat and his team in a very professional manner. Their workmanship was incredible and of the highest standard. His team were all exceptionally polite and a pleasure to have around. With us choosing to feed and accomodate, them it was a pleasure to have them and a sad day to see them leave. Pat also had to tie the new structure in with our old existing Woolshed which became our covered yard. Pat's experience here paid off as he was able to link the two structures whilst maintaining excellent stock flow.
I would highly recommend Pat and his FarmBuild team for any building project, and we look forward to using them and their expertise again in the near future.
William Jones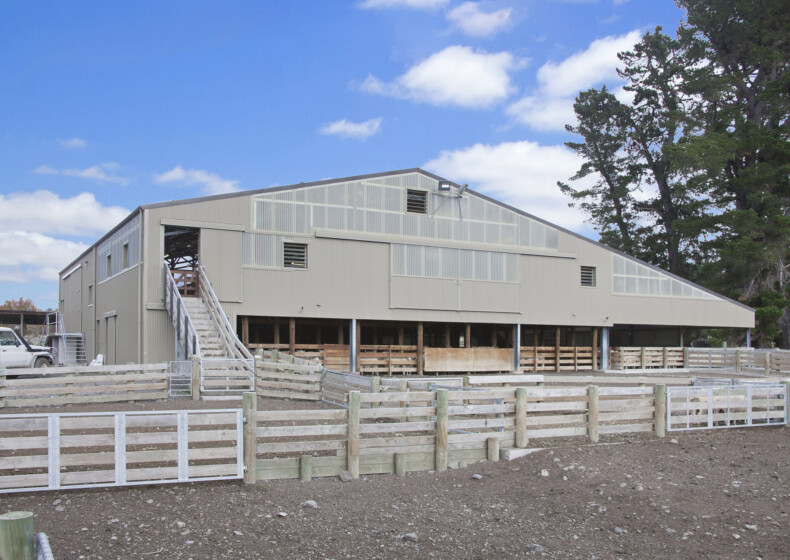 Snowdon Station Ltd
Farmbuild built our new woolshed for us in 2012. They were excellent to work with and very professional and efficient in their management of the project. They have been building woolsheds and farm buildings for years and have a wealth of knowledge and good design ideas to draw on. The overall finish of the shed is a credit to their workmanship and testament to their quality approach to building. We would be happy to recommend them to anyone and certainly keen to use them again for future building projects.
Roy Veronese and Annabel Tripp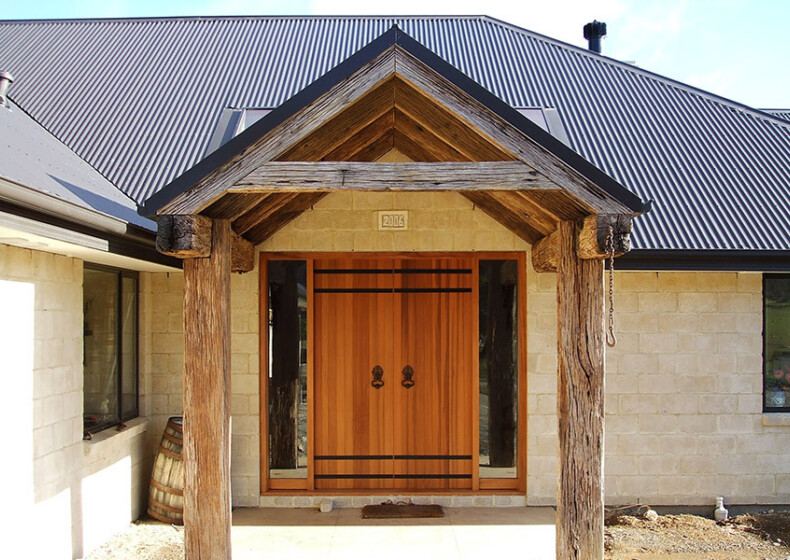 The Lakes Station
Colin Gregg employs a staff, consisting of young energetic dedicated builders. They worked late into the night and early mornings. They lived on site and completed our homestead of 550 sqm in five months, from June until October. (Conditions including ice, snow and howling winds!) Kate, Colins wife was also very much part of the team.
There was never a delay for the subcontractors; Colin had them well organized in advance. There was no job too big or too small for Colin and his men. He is a superb organizer and helped us through issues with great tact and diplomacy! Always keeping his sense of humor and would go out of his way to show us examples and ideas.
We thoroughly enjoyed our 5 months with Colin Gregg resulting in a beautiful home of the highest standard of workmanship; and new friendship.
We would thoroughly recommend them for any project.
Ted and Sandy Phipps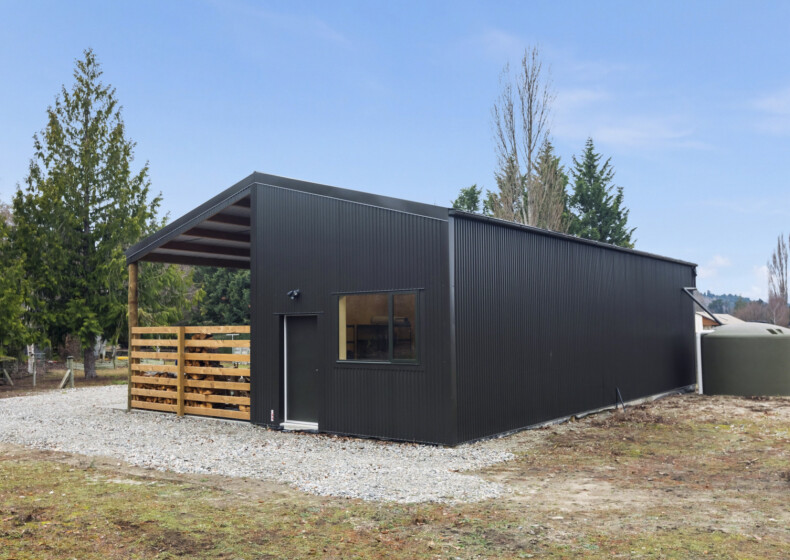 McArthur Shed
We were extremely satisfied with the work that Pat and his team did building our new shed. Pat provided on-site regular and ongoing updates on progress, and his team was a group of hardworking and professional young men. We were most satisfied with the whole process and would have no hesitation in highly recommending Farmbuild South.

Ian and Annie McArthur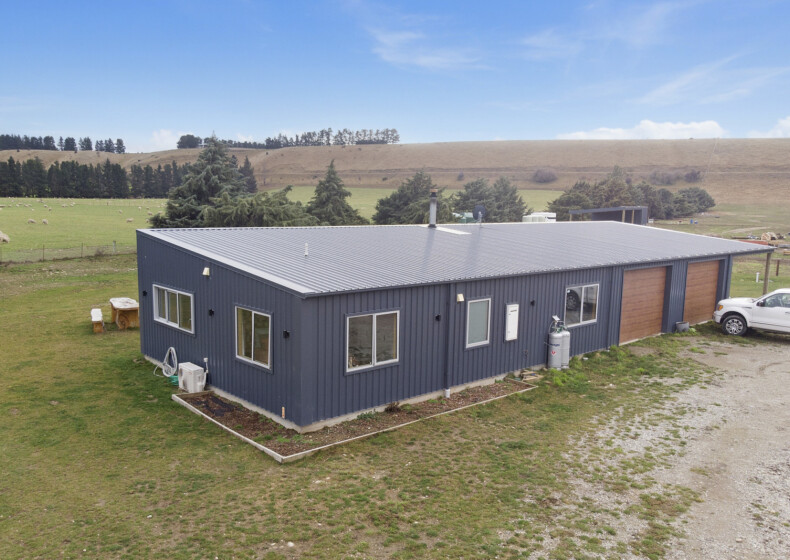 Duncan House
I used Patrick McCarthy and his Farmbuild team to build my house in 2018. They also built me a hay barn / tack shed in 2018 and lined my garage in 2021.
I will continue to use their services to complete my stables and a further four bays on my hay barn.
The Farmbuild team were extremely professional on every level. They have excellent communication and helped with building plans. Their workmanship was completed to perfection, they gave practical friendly advice when required and they always left the job site tidy. The team were very polite and I was impressed by how well they worked together. Nothing was ever a problem for the Farmbuild team – they continued to provide a great service throughout along with follow up after completion.
I would highly recommend the Farmbuild team for all your building projects.

Kylie Duncan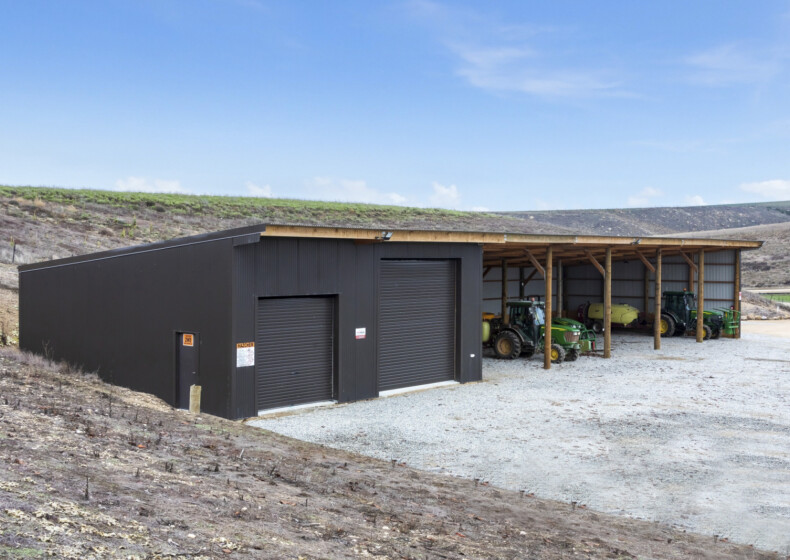 Central Cherries
Central Cherries is a large-scale cherry orchard development in the Clyde area. I approached Pat McCarthy in 2019 to build a 9 bay implement shed for the site.
I found Pat and the Farmbuild team really efficient and pro-active from the design and quoting through to completed build. We used FarmBuild for another two smaller sheds on the site and wouldn't hesitate to use them again in the future. The sheds are all finished to a great standard and perfect for our needs.
Nick Common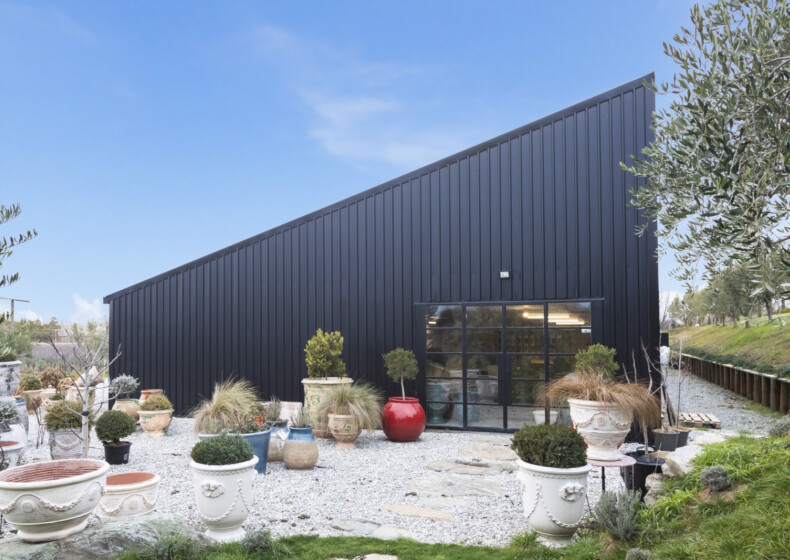 Domaine Rewa
Great feelings at first sight, no surprises and the team were exceptional. In short Patrick McCarthy has managed to build up and train a team of skilled, respectful practitioners who operate with a no-nonsense mentality. I have recommended Farmbuild to several of my clients who have visited my pottery atelier or shed for you farmers out there.
My wife and I would recommend Farmbuild with no reservations. As for the design it was about nestling the building so as a result the roof follows the slope of hill behind. The mezzanine is practical and functional to dry my pots as it is close to the rooftop which is black and captures the heat. Again the slope gives us full sun exposure.
Yannick and Phillipa Fourbet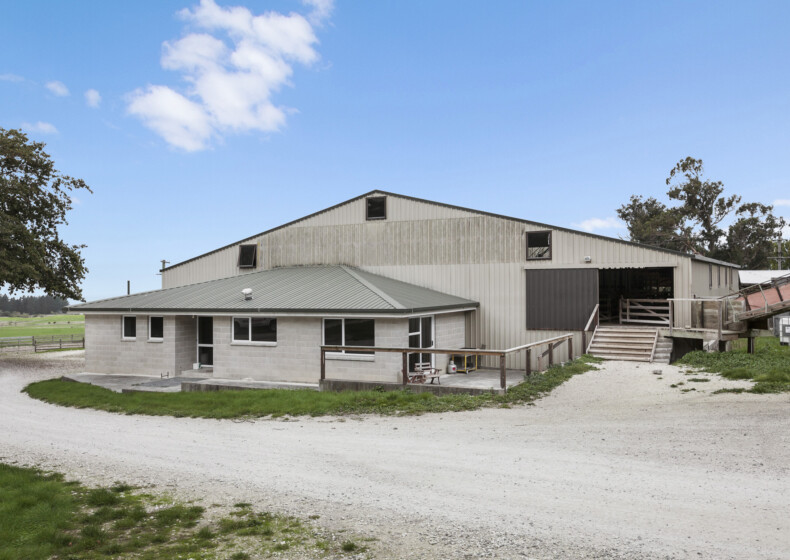 A historic country connection
We have been using the services of Colin Gregg for the last 20 years. They have been involved in the building of 2 woolsheds, a homestead, a number of farm buildings and cottage renovations.
As a small family run business they are a friendly well organised team. Communication is excellent, workmanship is of a very high standard and jobs are well thought out. They are competent, resourceful and skilled builders.
They have been given very challenging tasks at times but consistently turn out a quality job. Colin, Bruce and their staff have stayed with us many times over the years and our family have enjoyed their company and friendship.
Johnny Douglas-Clifford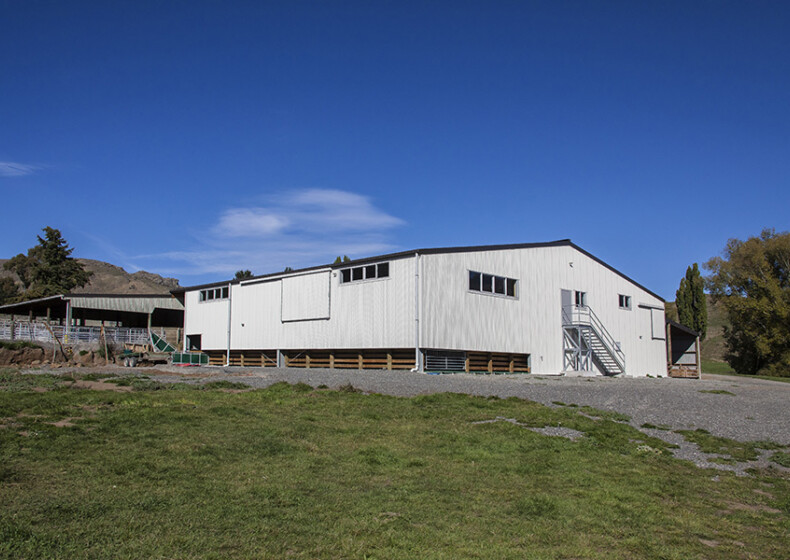 A short timeframe with an outstanding result
Willie and Sue Macdonald
Middlehurst Station
Willie and Sue Macdonald own Middlehurst Station, a 17,000 hectare merino sheep and beef farm in rural Marlborough. They were initially unsure if FarmBuild could take on their desired project because their station was so far away from Christchurch – four hours door to door – but as soon as the team arrived for the first consultation, the Macdonalds knew they'd made the right decision.
"When Pat and Colin got out of their truck, I knew they were the right guys for the job," says Willie. "It was already clear as soon as we met them that they understood farming."
The Macdonalds wanted a six-stand woolshed for their remote station, and the FarmBuild team looked over the site and Middlehurst's existing shed, then brought forth some ideas. "What we decided on was a mix of a pre-existing design and internal fit-out, as per FarmBuild's specs, with a dimension of the design done by us," says Willie. "It was a combination of what we wanted, and their historic experience."
Patrick and Colin outlined a relatively short timeframe for completion of the building – five months. "I was seriously cautious that the timeframe was too short – the deadline was 20th September 2015, as to when we started shearing," Willie explains. "I was happy to put the project off for another six months to be ready for the following season… but Pat assured me we could do it."
Delivering the woodshed on time and to budget, FarmBuild's organisation was top notch, the Macdonalds say. "I give them 10 out of 10 for serious organisational skills," says Willie. "We've done other jobs and used other contractors, and these guys were the most organised people we've ever used. They lead the charge with their plans and their engineer and were committed the whole way through."
The final product, a steel and timber six-stand woolshed, has exceeded the Macdonalds' expectations. "It's not just a woolshed, it's a beautiful building," Willie says. "The key thing is, it's absolutely functional. With some woolsheds, the sheep just don't flow in, but because of FarmBuild's knowledge of stock flow and handling, this is outstanding."
From initial consultation to final handover, the process of working with the FarmBuild team was more hands-on and personal than the Macdonalds could have wished for. "They're just a very credible, reliable bunch of guys," Willie says. "They arrived as strangers, but they left as friends."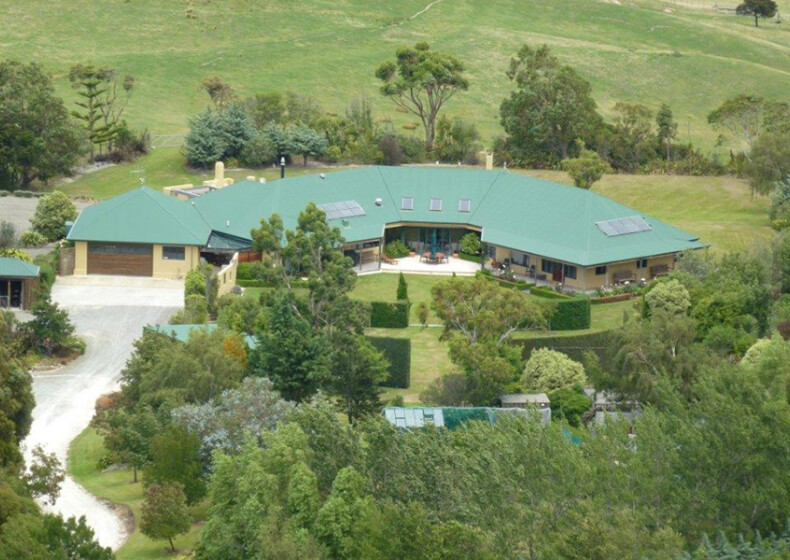 Stonyhurst Station
Stonyhurst Station, an historic farming station near Cheviot in the Hurunui District, was founded in 1851 and has a long family legacy attached to it. FarmBuild has been working with the station since 1981, when Bruce Gregg ran the company and his son Colin was an apprentice.
"Bruce and Colin were the only people in the business back then," says Peter and Johnny Douglas-Clifford, Stonyhurst's owners. "They came in and built us a big new woolshed to go alongside a 100-year old shed. We liked their design, we liked how much they understood farming."
A fire destroyed both sheds a decade later and Colin and Bruce were back quickly with a similar design, incorporating steel grating and Oregon trees from the property. "This was a first for FarmBuild sheds," Douglas-Clifford says.
Stonyhurst Station sits on approximately 3000 hectares of land, and over the years, FarmBuild has developed numerous other projects for the site, including Peter and Fiona Douglas-Clifford's own homestead.
All concrete for the Stonyhurst homestead was made on-site, and as much timber as possible was sourced from the station itself. The building has many of the typical design features of any great country homestead – including rimu doors and trim, and a granite kitchen with diesel AGA (which both cooks and heats the house) – and it runs mostly on windmill power with all facilities on-site.
Colin Gregg says one of the most rewarding parts of his apprenticeship was working on this station. "This is the only project where we have gone to the forest and picked out 80-year-old timber, cut it down, milled it, and by that afternoon have nailed it up into frames on site," he says. "That was a very satisfying accomplishment."
Another notable FarmBuild project at Stonyhurst was a new six-stand woolshed, where yet again all concrete was made on the premises, and all timber milled off the station grounds. "There's a lot of history and heritage at Stonyhurst, it's over 150 years old," Douglas-Clifford says. "We like to do things in certain ways, and FarmBuild is good at understanding what we want to achieve – not just for our generation, but the next generation.
"Over the years, they've become really connected with the place. They know what we've done in the past, and they're keen on seeing us into the future because they understand the farming lifestyle and what's required."
Peter Douglas-Clifford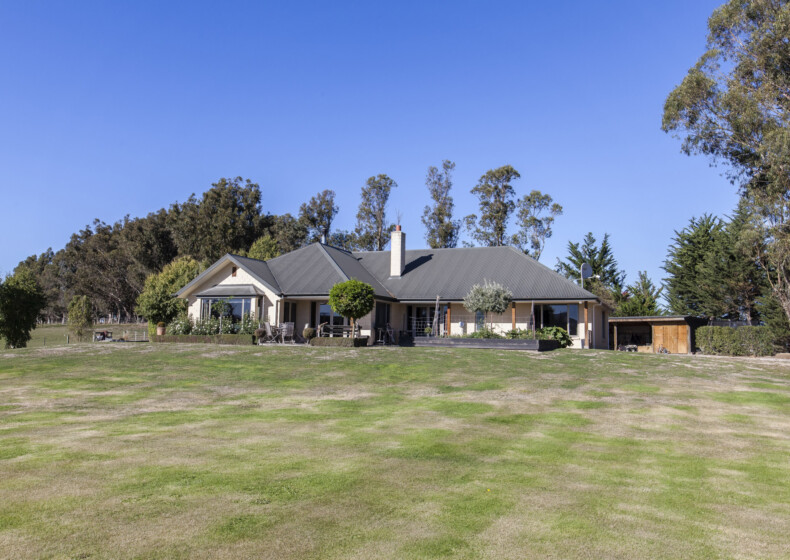 Mendip Hills Station
I have had the pleasure of knowing both Bruce and Colin for some 10 years now. During this time they have undertaken a variety of jobs for our own business enterprises, from large woolsheds to small renovations. At the wetting of our new woolshed, for example, I described them as among the few remaining craftsmen left, who were capable of not only erecting buildings but also finishing them to a standard that is all too rare.
Colin Gregg, whose father Bruce has retired and who now runs the business and its competent team of builders, is well able to continue this fine tradition. Careful planning, detailed on-site control and prompt completion typify the way Gregg Builders operate, for whom nothing ever appears too much trouble. And so, whether one's requirements are house and home or larger projects (like farm buildings), I do not think any client will be dissatisfied – indeed, quite the opposite! I commend them to you.
Bryden Black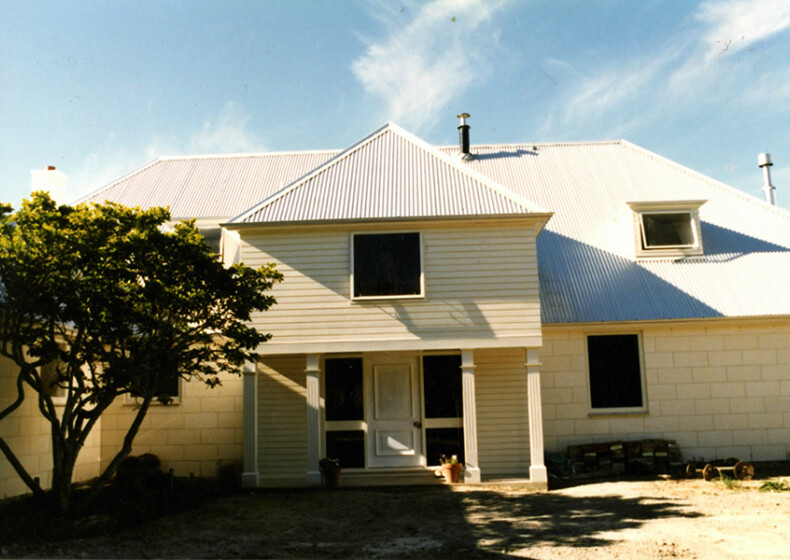 Black Rock
We have known Colin Gregg for many years and over than time have had him constructing various buildings for us. Because we knew of the quality of his workmanship and professionalism, we had no hesitation in employing him to build our 440 square metre, architecturally designed house. We are delighted with the result.
During the nine months building period, we were impressed with his attention to detail and pride in his work. He worked well in the rural situation where a lot of forward planning is necessary. He proved to be punctual, energetic and always cheerful and pleasant to work with. He had good rapport with his labourers, organised his time well and kept the site tidy.
We would have no hesitation in recommending him to anybody considering building.
Stuart and Debbie Anderson
Let's talk
If you want your rural project to stand the test of time, have a chat to one of our experts and
we'll show you what we can do.
Get in touch